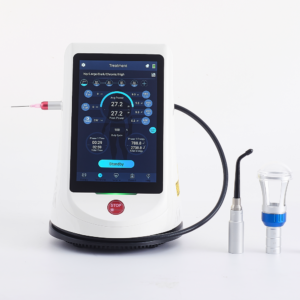 The on-contact technique does not mean you need to 'dent' the patient with the pressure you apply. 
We have personally applied 1000s of laser sessions to pets with the Vets1laser heads shown, all with  tremendous overall success and yet have never ever needed to apply more than the lightest of contact to achieve treatment success.
PBMT is a photochemical process, it is not a physical massage and it is not a physically uncomfortable therapy.
The technique is done at a specific rate: not super fast and not hovering over the one site. If you have not been taught about speed, direction and grid lines, then ask your own laser company to improve their training to you.
If your patients are resenting the laser when you are using it, then most likely it is operator technique i.e You that is at fault.
Too often we see these sad videos of laser headpieces- from a variety of laser companies being applied to the pet's body with what amounts to brute force.
To apply laser, one is not ploughing through the animal's muscles making deep furrows.
Aside from the fact the animal is not an equal player in such a process, unable to call stop if the force applied is too great-there is simply no need for such force to be applied through the end of a good laser therapy head.
If you do have to apply such force for your laser machine head, rethink what you are using.
As like most situations in Vet Med; Its Rarely  about Brute Force and Always about Technique
To see an example gentle low stress on contact technique-watch Dr Mark in this video :https://vimeo.com/435250700?share=copy
To see a correct off-contact technique, see Part 1 of our 'Glide' Blog Posts